Navigating The High Seas With Garmin
The preparation for a deep sea fishing trip or marine expedition can be costly and inefficient without the assistance of GPS navigation. Ship operators acknowledge that marine operations systems are an essential factor in the efficient running of a marine vessel. The installation of new GPS components enables a crew and its sea faring passengers to benefit the most from underwater mapping.
GPS Underwater Navigation
The fact that underwater tracking of fishing migration requires satellite positioning navigation has promoted continuous innovation of GPS as a core marine operations system. The most effective technology for monitoring and reporting underwater activity, GPS mechanisms are considerable in their value as global mapping devices.
Marine operations coordination of sailing course details, positioning and navigation would not be possible without GPS mapping technology. Among other manufacturers, the history of Garmin GPS prefaced by earlier satellite navigation systems has seen evolution in software development. Applications designed to improve range, reliability, range, and weather monitoring increase the chances that fish finding will be accurate. The popular Garmin 441s is one such unit responsible for ushering in this next phase in underwater navigation.
Robust Feature Set
The main feature of a Garmin GPS system is to chart and plot the exact location of fish. When using chart plotting, sonar and sounder features in GPS, deviation from precision in recording fish migration is drastically reduced. Garmin GPS tracking devices have become renowned for mapping schools of fish; encompassing the entire range of migration. Establishing a virtual net across the span of aquatic geography where a school is detected, GPS coordination maps route navigation so that a ship stays on course.
Marine expeditions pursuant of optimum fishing and diving conditions will find that the multi-radar systems available in Garmin GPS alert the user to exact location with the least amount of hassle. Portability in GPS has also created more flexibility in how a crew manages the monitoring of navigation. Waterproof and weather resistant Garmin GPS is a must for any sailing vessel with the integration of autopilot systems in GPS devices guiding the user to the perfect route according to the current weather and sailing conditions. Once a course is selected, synchronization in GPS provides the details to course activity such as coastlines, port rules, restricted areas, and alerts to emergency signals.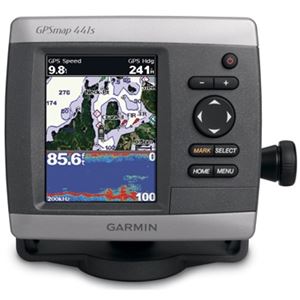 Garmin 441s GPS
Since the early introduction of fish finding in GPS, there has been much improvement in features and tutorial supplements to the product. Garmin 441s GPS is a prime example of a marine operations technology that has reached maturity. The 441s is a marine GPS receiver that includes top end features and a 4-inch QVGA color screen. This highly competent route navigation device is designed to track underwater conditions without error. The fish finder feature illustrates the precision of GPS in guiding marine operations. GPS mapping of waypoints on course for a designated location charts the exact route to the destination.
Like signposts along a road, Waypoints can be coordinated with other geographic or maritime navigation points, as well as symbols for temperature and depth for customization of a route. GPS also cuts down on risk of errors in plotting a course. Users can add warning symbols to a map to ensure that a ship or yacht is not endangered by known hazards. Navigating to a destination is easy once the coordinates have been recorded in Garmin 441s GPS. The device simply alerts the user of approach of waypoints along the route.
New smart applications capabilities in Garmin's latest GPS units take much of the guess work out of fishing expedition management. Deployment of satellite informed sailing navigation ensures that a voyage will be time efficient and risk free. At any time during a maritime journey, a ship can go off course. With the installation of GPS technologies, control over navigation planning and execution is afforded.