The Garmin Force 57" Trolling motor is one of the most powerful and efficient trolling motors to ever hit the market. If you're looking for the advantage of quietness and efficiency without the worry of power loss the Garmin Force trolling motor is what you've been waiting on.
Simple, wireless integration with your compatible Garmin chartplotter, the built in autopilot gets you to the fish while the anchor lock helps you stay right on them. You're able to create routes to your favorite waypoint, and follow tracks while you fish. The built-in autopilot, with integrated heading sensor and GPS also provides anchor lock, heading hold and cruise control. You just need to set your track, and the Force will guide you along your course.
The included Wireless foot pedal provides a super quick response with instant control that feels and steers just like a traditional cable steered pedal. This pedal is powered by 2 AA batteries or can be hardwired to your boat.
The Garmin Force trolling motor is powerful enough to constantly fight winds and currents but is still

efficient enough to last all day on a 36V or 24V system. You can spend more time fishing and less time worrying about your batteries dying.
The Force includes an integrated CHIRP traditional and Ultra High Definition Clearvu and Sidevu scanning sonar without the worry of noise interference so your sonar picture has the clarity you've come to expect from Garmin. Please note, full sonar support is available for the GPSMAP 8400/8600xsv and ECHOMAP Ultra models only.
The included floating handheld wireless remote control provides full control of the Force motor also. This simple remote allows you to make minimal or large adjustments to your boat placement with the quick press of a key. With Garmin's Gesture Steering, you're able to point the remote in a direction and the autopilot will follow the command and troll in that direction.
Garmin has included everything you could want out of a trolling motor from power and quietness all the way to efficiency. The Force Trolling motor from Garmin can get you to the fish and hold you there!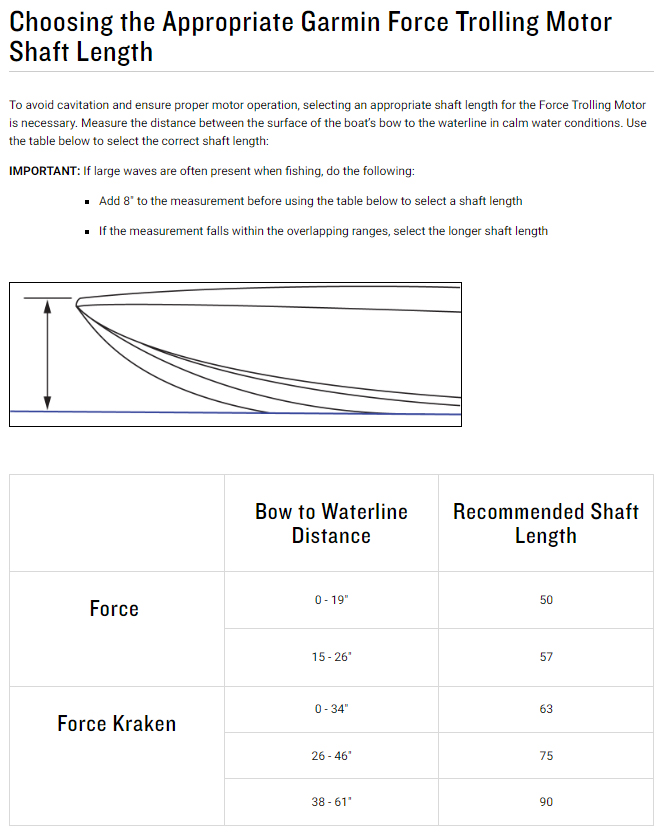 Garmin Force Box Contents
Each Garmin Force Comes with:
Garmin 57" Force Trolling Motor
Foot Pedal
Remote
High Efficiency Propeller
Stabilizer
Assembly and Mounting Hardware
Documentation and a Three Year Warranty
Garmin Force Key Features
Powerful Trolling Motor counters winds and currents
Wireless Chartplotter Connection
Built In CHIRP and UHD Scanning Sonar when paired with GPSMAP® 8400/8600xsv and ECHOMAP™ Ultra models
Point and Go Gesture Control Steering with Included remote
3-year warranty and a limited lifetime warranty on the shaft.
Size: 57" Shaft Length
Product Accessories for Garmin Force 57" Freshwater Trolling Motor
Similar Products and Value Bundles
Garmin's Force Trolling Motor is a powerful, quiet and efficient 50" freshwater trolling motor. Wirelessly connect to a compatible chartplotter for navigation, autopilot and anchor lock. Includes a wireless foot pedal for instant control and response and integrated Ultra-High Definition scanning sonar when connected to a compatible Garmin Network unit!
Can Not Ship via Air Service, Must Ship Ground Only!
GA02024

MAN#

010-02024-00

ID#:

6054