7-Inch High Performance Multifunction Display with RealVision Transducer
The Axiom + 7RV has a bright high resolution IPS display with enhanced visibility in any lighting conditions. If your hands are wet or dirty no need to worry with the Hydrotough display. The screen has a Nano-coated, Impact- resistant glass screen that repels water, oil, and smudges for improved clarity and accurate touch controls. Equipped with a powerful quad-core processor giving you the power to seamlessly redraw charts, Navigate with augmented reality, and experience 3d sonar with ease.
The Raymarine Axiom + series feature the renowned LightHouse 3 OS, the most powerful and easy-to-use Raymarine MFD operating system to date. Smart and intuitive, navigating is easy and viewing is improved with new color themes, Including bright, dark, and night mode.
Download 10,000 waypoints and up to 150 routes with 16GB'S of internal memory and add additional charting with the SD slot in the back of the unit. You can also add an optional external card reader for easy access. The high-performance internal 10HZ GPS/GNSS receiver with 4X increased sensitivity gives accurate waypoints and routes making navigation easier than ever. With Wi-Fi capability, you're able to use a wide range of Raymarine apps allowing you to view and even control on a compatible smart device or tablet.
The Axiom + 7RV has a 600w built in sounder and integrated RealVision 3d offering the best sonar capabilities in the industry. Packaged with RV100 Transom Mount transducer, you can expect clear and accurate sonar readings including structure and fish below and to the sides of your vessel. This transducer offers a 4 channel wide spectrum CHIRP sonar that also provides users with DownVision, SideVision, high frequency CHIRP targeting, and RealVision 3D views, providing any angler with the best bottom image a transom mount transducer can offer.
Raymarine created the RV100 transducer with a stabilizer, known as attitude and heading reference system (AHRS), which stabilizes your sonar image and compensates for your vessels motion providing you with the best picture. See clearer sonar images with the AHRS feature in bigger waves, swells, and while moving from point A to point B on your fishing adventures. The perfect solution for outboard powered motor boats, the RV100 offers a stainless steel mounting bracket with an integrated kick-up system to prevent damage from debris, stumps, or other obstacles below you.
Detailed Lighthouse NA Maps include navigation charts and coverage area includes coastlines of the contiguous U.S., Alaska, Hawaii, thousands of inland freshwater bodies of water, and the Bahamas. As well as The Great Lakes and related waterways, British Columbia, The St. Lawrence River, the coastlines of Newfoundland, Nova Scotia, Prince Edward Island and New Brunswick! With enhanced Chart symbol control you can now change the size of channel markers, POI's and other icons as well as choose from 4 different color palettes allowing you to change how the screen looks based on the time of day and different lighting conditions. It doesn't stop there however, the Lighthouse NA Maps include expert-verified Fishing Hot spots and even allows you to create your own personal contour maps with RealBathy sonar maps! However, if the included Lighthouse Charts are not enough, the Axiom+ is fully compatible with charts available from both C-Map and Navionics!
The Raymarine Mobile App for iOS devices is the FREE App that Raymarine Axiom users have been waiting on. Stream and Control your Axiom MFD right from the palm of your hand. Never worry about keeping up with your waypoints again! With the Raymarine Mobile App you're able to back up and share Waypoints, Tracks, Routes and even Screenshots taken on your Axiom. Upgrade your Raymarine app to the Premium version and when installed with a YachtSense Link 4G mobile router you're offered a world of upgraded features. Remote Location Monitoring, Off-boat Monitoring of Sensors such as Bilge, Battery and Shore Power, and Control of connected devices are just the beginning! - Android Version Expected to be release Fall 2022.
The Axiom + is Fully Networkable with multiple displays, Raymarine radars, FLIR Cameras and much more. RayNet, NMEA 2000, and SeaTalk NG with adapter cable connection providing many connection options. Whether you Fish, sail, or explore- the Axiom+ 7 RV provides cutting edge technology for all applications.
Raymarine AXIOM+ 7RV with RV-100 Transducer and Lighthouse NA Mapping Box Contents
Each Raymarine AXIOM PLUS 7RV with Lighthouse NA Mapping Comes with:
Multifunction Display (supplied with Trunnion adaptor fitted)
RV-100 Transducer with 26 Feet of Cable
Trunnion bracket with Knobs
Suncover — Trunnion mount
Panel mount gasket for surface/flush mounting
Rear Mounting Bracket
Installation Hardware
Documentation pack
DeviceNet to SeaTalkng adaptor cable (4.7 in)
Power/NMEA 2000 cable (4.92 ft) power lead and (1.64 ft) NMEA 2000 lead
2 Year Warranty
Raymarine AXIOM+ 7RV with RV-100 Transducer and Lighthouse NA Mapping Key Features
Multitouch Display with HydroTough Rugged Hydrophobic Coating
Internal Powerful Quad-Core Processor and Additional Storage
ClearCruise Augmented Reality
Included RV100 Transducer for RealVision 3D
25% Brighter Display than Previous Models
Size: 7.92"W x 5.24"H x 3.0"D (Excluding trunnion and cables)
Raymarine Axiom+ 7RV Specifications
| | | | | | |
| --- | --- | --- | --- | --- | --- |
| # Of Waypoints | # Of Routes | Track log | Receiver Type | Display Size | Manuals and Instructions |
| 10,000 | 200 | 10,000 points 16 saved tracks | 10Hz 28 Channel Receiver | Color 7" Diag. 1024 x 600 | Click Here |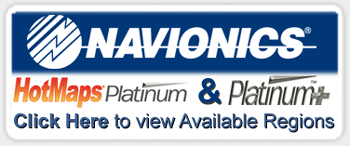 Product Accessories for Raymarine AXIOM+ 7RV with RV-100 Transducer and Lighthouse NA Maps
Similar Products and Value Bundles
The Raymarine Axiom+ 12RV is a high-performance multifunction display equipped with a powerful quad-core processor and a 25% brighter high-resolution display than other models. Packaged with Navionics Charting and the RV-100 Transom Mount Transducer with RealVision 3D Sonar and built-in support for Radar, additional displays and much more!
RAE7063903NAG

MAN#

E70639-03-NAG

ID#:

6389