Reliable Fixed Mount VHF with NMEA2000, AIS and Internal GPS
Built to impress, the Standard Horizon GX2400 VHF offers performance and power every boater wants! NMEA 0183 and NMEA 2000 compatible, this radio can be networked and interfaced with current onboard electronics complimenting your current system with full VHF and DSC features. An integrated internal 66 channel GPS receiver quickly and accurately receives your GPS location no matter where you are, a feature especially important when in an emergency situation.
An oversized display will show your AIS target information including call sign, ship name, bearing, and more. This information allows you to contact another AIS vessel directly using DSC to show your vessels location in relation to AIS targets and alerts you when other AIS vessels may be approaching too close to your location via the CPA (closest point of approach) alarm. Capable of DSC (digital selective calling), the GX2400 allows DSC calls to be received even when listening to communications on another channel. Once the DSC call is made, a MAYDAY distress message is transmitted including the MMSI#, nature of distress, and the Lat/Lon position along with date & time. The GX2400 radio receives AIS targets only and does not transmit your boats position.
Need to remotely control your GX2400 from the cockpit or fly bridge? Not a problem. This radio can be connected with the optional RAM4 or RAM4X (wireless remote access mic) offering the capability to control most radio functions including DSC, great for use as a second station or as an intercom. If you purchase the RAM4X, it requires the SCU-30 wireless access for connection while the standard RAM4 wired mic can be mounted up to 23ft away from the GX2400.
Integrated into the GX2400 is a powerful 30 watt PA system with loud hailer and listen back capabilities providing you with the added benefit of monitoring the last selected VHF channel while in a PA or fog Mode. An internal 32 code voice scrambler for private communication between you and other vessels is also built into your GX2400 and can quickly be set up by a common code between the transmitting and receiving radios.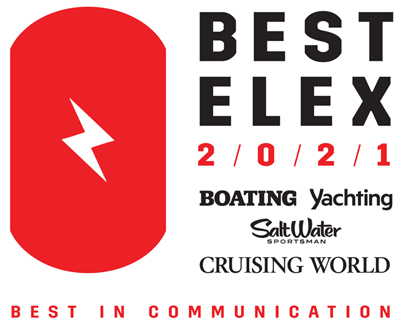 Standard Horizon GX2400 Matrix Box Contents
Each Standard Horizon GX2400 Comes with:
GX2400 Fixed Mount VHF in Black
Dust Cover
DC Power Cord
Mounting Bracket
USB Cable
Three Year Warranty
Standard Horizon GX2400 Matrix Key Features
NMEA2000 and NMEA0183 Compatible
Built In 66 Channel GPS Receiver
Integrated 32 Code Voice Scrambler
Wireless 2nd Station Capability *Requires additional components
NOAA Weather Channels with Weather Alerts
Speaker Microphone
Size: 7.1"W x 3.1"H x 6"D, Flush Mount Dimensions 6.3"W x 2.6"H x 6.2"D
Product Accessories for Standard Horizon GX2400 Matrix VHF with AIS, GPS and NMEA2000