Get Enhanced On the Water Awareness
The Raymarine AR200 consists of a Global Navigation Satellite Systems (GNSS) Receiver and Attitude and Heading Reference System (AHRS) sensor which provides position, heading, pitch and roll data to your compatible Axiom display.
The AR200 can be used as a source of GPS position and heading data for other devices in your network and has a 10Hz refresh rate.
When paired with a compatible IP or M-Series camera, the AR200 provides ClearCruise Augmented Reality features to your Axiom display. If you choose to forego the addition of a camera- the AR200 will still provide Augmented Reality features- however it will not provide ClearCruise. The screenshot below shows the AR200 Augmented Reality without the use of an IP camera.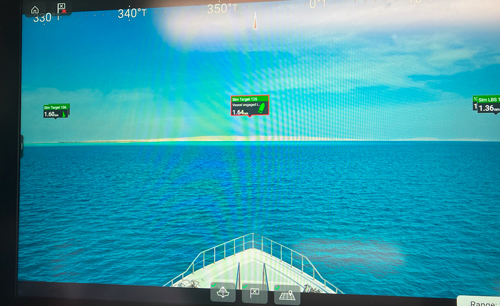 What is Augmented Reality? Augmented Reality allows for the overlay of data objects (such as waypoints, chart data and more) in a unique field view in front of your vessel, see above image. ClearCruise is a form of Augmented Reality that is possible when you pair the AR200 with a compatible camera, listed below. ClearCruise Augmented Reality will overlay these data objects onto a live camera feed being displayed on your compatible Raymarine Axiom display, see screenshot below.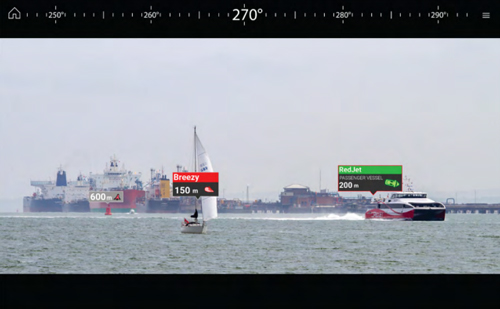 The following devices are required in order to receive ClearCruise Augmented Reality features:
Compatible Display
One of the following IP or FLIR M-Series Cameras: CAM210IP, CAM220IP, M100, M200, M300 Series
The AR200 is compatible with the following Raymarine displays:
Axiom 7/7DV/7RV/9/9RV/12/12RV
Axiom Pro 9RVX/9S/12RVX/12S/16RVX/16S
Axiom XL 16/19/22/24
Raymarine AR200 IP Camera Stabilization Module Box Contents
Each Raymarine AR200 IP Camera Stabilization Module Comes with:
Mounting Trim (Top)
Small Sealing Ring
AR200
3 Large Bulhead Bracket Fixings
Mounting Tray
4 Small Surface Mount Fixings
Bulkhead (wall) Bracket
Large Sealing Ring
Documentation
6m SeaTalkng (White) Cable
1 Year Warranty
Raymarine AR200 IP Camera Stabilization Module Key Features
9-Axis AHRS Sensor
28-Channel GPS Receiver
Fast 10Hz Position Updates
Satellite Differential GPS-Compatible
NMEA 2000 Compliant
IPX6/IPX7 Waterproof Rating
Product Accessories for Raymarine AR200 IP Camera Stabilization Module